STEMBRIDGE OVERVIEW
This page last updated Saturday, November 17, 2007.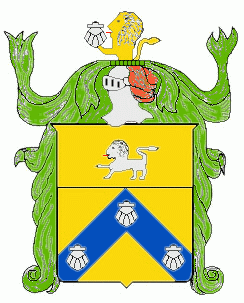 Stembridge Coat Of Arms1
I have information that traces my STEMBRIDGE ancestry to three brothers who immigrated from England about the 1740-1750 A.D. period. The STEMBRIDGE brothers came from Bridport, Dorset, England and first settled in Lunenburg County, Virginia. Many of their descendants still live in Virginia and can be found in the Counties of Lunenburg, Charlotte, and Mecklenburg. Other descendants have moved to other states, and the name is well known in several of them.
The three brothers:
WILLIAM STEMBRIDGE, the elder brother, lived and died in Virginia in the year 1787 A.D. Many of his descendants still live in Virginia. One son, William and one son, Thomas, moved from Virginia to Hancock County, Georgia.
JOHN STEMBRIDGE, lived and died in Virginia, but his son moved to Kentucky in pioneer days, settling there in the County of Muhlenburg. His descendants still live in that section, as well as in Indiana, Tennessee, and Michigan.
THOMAS BAKER STEMBRIDGE, the youngest of the three brothers, first settled in the Colony of Virginia, but later moved to Sylvin Hill in Hancock County, Georgia, where he reared a family of four sons. After the death of his wife, he moved to Crawford County, Georgia where he made his home with his eldest son John. His descendants far outnumber those of William and John and are found in the States of Georgia, Florida, The Carolinas, Alabama, Mississippi, Kansas, Louisiana, Texas, and California.
I am a descendant of Thomas Baker Stembridge, so that is where I have started. His line through nine plus generations is on these pages. It is not complete and may contain some errors or omissions. I would appreciate any additional information anyone may have. This is, after all, work in progress. Please e-mail me with any updates.
I have added some information on the William Stembridge line. It is not complete, but it is all I have at this time.
I have added very limited information on the John Stembridge line.

1 - Stembridge Coat of Arms.
Burke's Heraldry. Pg. 960
Stembridge: (Also Stambridge) Or on a chevron azure three escallops argent. On a chief of the second a lion passant of the field.
Crest: A demi-lion rampant or, holding an escallop argent.
No motto.
The distinguished old family was first recorded in South Wales in the census book called The Domesday Book. These were people holding land for taxes in the twelfth century. The chevron represented the rafters of the gable of the home and denoted protection. It was given in the military to show rank and honor for services in protecting the homeland. The escallops were the symbol of a crusader to the Holy Land, and brave fighting to save the Holy Shrines from being destroyed by Moslems. The 'chief' is the upper third of the shield. The lion was called 'the king of beasts' and signified great strength and fortitude.
Colors:
Or (gold) showed stainless honor and elevation of mind.
Azure (blue) denoted truth and sincerity.
Argent (silver) indicated purity and constancy.
The leaves around the shield are simply ornamental and have no particular meaning.